Wicca Symbols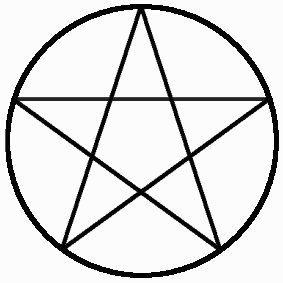 The most central of Wicca symbols is the pentacle. This is a 5-pointed star with a circle around it. It is positioned most commonly so that 2 of the points point downward. The star without a circle around it is called a pentagram.
The pentagram is a very ancient symbol used in many religions. Judaism, for example, references a 5-pointed star for the seal on Solomon's ring. Christianity uses it to represent the star of Bethlehem that led the wise men from the East to the infant Jesus is depicted as a 5-pointed star. Also, Christianity references the 5 wounds of Jesus.
For Wiccans, the pentagram references the 4 cardinal directions plus spirit, or the 4 primal elements (earth, air, fire, water) plus spirit. In its common position, it can represent the unity of the world within one reality or the divine.
Sometimes the pentacle is inverted, or positioned with only 1 point downward. This inverted pentacle usually symbolizes a grounding motif, a giving back to the earth, or a releasing of some sort.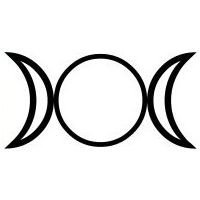 There are many other Wicca symbols that appear in rituals and texts. Some of the most popular include those for God, Goddess, the 4 elements, the moon phases and the triquetra.
The triquetra is the topmost of the two symbols above. It is a common symbol found in many religions throughout history. Typically, it symbolizes anything understood as a trinity or a set of three. For example, earth-sky-water, or Father-Son-Holy Spirit. For Wiccans, it can symbolize the triple nature of human beings (spirit-mind-body), or god-goddess-spirit, or several other things.
The lower symbol of the two above is the Wiccan goddess symbol, also called the triple moon. As its name suggests, it points to the Goddess as well as to the phases of the moon, which are important ritual and festival days in Wiccan religion.

Related Pages
---
---