The Wiccan Rede & Rule of Three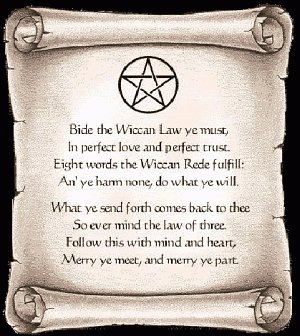 The Wiccan Rede and the Rule of Three are terms that encapsulate the ethical beliefs and practices of the people of the Wiccan religion. It is a very simple and almost "libertarian" understanding of living morally in human society.
The term "rede" is derived from the Old English term "roedan" which means "to guide" or "to direct." The Wiccan Rede was written or conceived in the early 20th century, although its exact source is unknown and disputed. It's core maxim is: if you harm none, do what you will.
In other words, people are free to do whatever they want as long as their actions do not harm themselves or others. "Harm" here includes not only physical injury, but also attempts to control, emotionally harm, manipulate, dominate, or hurt another person or group of people in any way.
The Rule of Three expands upon the concept of harm. This Rule is also called the Threefold Law or the Law of Return. It says: all good and the harm that a person does to another returns threefold in this life.
Some Wiccans interpret this to mean that the good or harm returns back to a person three times as much. Others say the good or harm has impact in three major realms of life: the physical, emotional and spiritual. Many hold to a combination of these interpretations. 


Related Pages
---
---