Who is L. Ron Hubbard?
L. Ron Hubbard (1911-1986) is the founder of Scientology, a very new religion that began in the United States and has spread to over 200 countries. He was a successful science fiction writer, world traveler and amateur philosopher whose ideas gradually coalesced into a religious vision of the world, human beings, and their quest for salvation.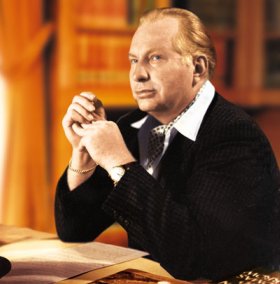 He was born in Tilden, Nebraska. His father served in the Navy and was posted to the U.S. Naval base in Guam, which the young Hubbard visited a few times in the 1920's. He attended George Washington University for two years, where he studied physics.
After dropping out of university, he pursued writing for popular or mass culture. He published many short stories and novellas in the 1930's. He was especially successful as a science fiction and fantasy writer. The most notable of his writing during this period is an unpublished manuscript from 1938 called "Excalibur" which assesses all of human life in terms of the drive for survival inside a material reality that can be organized and controlled to some extent. Most scholars say this was his first foray into religious or philosophical thinking.
He married Margaret "Polly" Grubb in 1933 and they had two children. He joined the United States Navy in 1941 as a lieutenant junior grade.
He resumed his writing career after leaving military service, and achieved tremendous success with the publication of his book Dianetics: The Modern Science of Mental Health in 1950. Many will say this was the beginning of Scientology. Although it had an initial run of only a few thousand copies, it eventually became a New York Times bestseller for several months, selling over 20 million copies. For decades, it was the best selling self-help book of all time. In it, Hubbard speaks of a mental therapy designed to alleviate unwanted emotions, fears and phobias.
He continued to write after the success of Dianetics, developing his thought into a more properly "religious" mode. Today, the Church of Scientology archives over 15,000 pages of various books, articles, lectures, and essays of his, along with nearly 3000 taped lectures. Together, this body of writing forms the scripture of Scientology.
He died in 1986, by which time several of the major institutions that define the official Church of Scientology had been created, including the Church of Spiritual Technology (CST) created in 1982 to receive the bulk of his estate and to preserve and translate his writings and tapes.
Scientologists use the term "the Tech" to refer to Hubbard's ideas, which are considered an "advanced technology" within the religion. He is called "the Source" within Scientology, and the religion takes great pains to safeguard his ideas and their application so that they are not altered from their original form or purpose through purely personal interpretations.


Related Pages
---
---